Take a Segway Tour of Tempe
Looking for something different to do in Tempe? Then Segway of Scottsdale has the adventure for you! Take a Segway tour of Tempe Town Lake with the number one rated Segway tour in Arizona.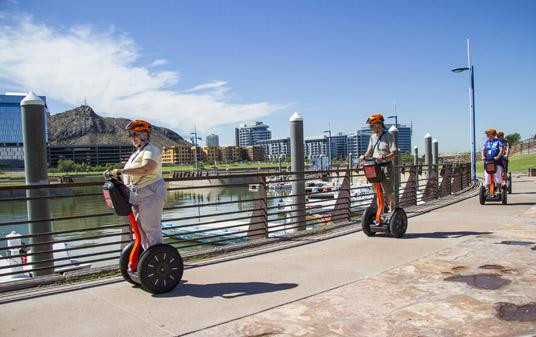 If you've ever wanted to ride a Segway, this is your chance. This tour is perfect for first-time riders and everyone will be instructed on how to ride handle the Segway safely. Tempe's wide sidewalks make it a fun and easy ride. Bring your friends, family, or visitors from out of state to experience the luxury of waterfront cruising.
Tours are an hour and a half and are guided by fun and experienced tour guides with knowledge of the city. Whether you're new to Tempe or have lived there your whole life, you're bound to learn something new. Tempe is a youthful and vibrant city with much to see and do. It's truly unlike any other city in Arizona.
Book your tour online and receive 50 percent off of $75. Tours meet in the Southwest Corner of the parking lot at the Tempe Center for the Arts.
About Segways
Segways are powerful two-wheeled scooters that have sensors that sense weight distribution. To get a Segway to move, just lean in the direction that you want to go. To turn, simply turn the handlebar in the direction you want to go. The Segway's self-balancing will keep you upright, and the motor will move just at the right speed to keep it from falling over. Going up to 10 mph, Segways are a completely different way to get around.