Transform Your Smile With Clear Aligners in Tempe, AZ
When you need a reliable solution for crooked teeth, invisible aligners from Invisalign® may be the right choice for you. Tempe Smiles Family Dental provides Invisalign® treatment options for patients throughout Tempe, Arizona and the surrounding communities. Our knowledgeable and experienced team of dental professionals is certified, so you can always expect the best results when choosing us. Invisible aligners are becoming more popular among active adults and teenagers because they are convenient and effective. Meet with our dental team today to find out if Invisalign® invisible aligners are right for you.
Discover the Benefits of Invisalign® Invisible Aligners
Invisalign® invisible aligners have helped millions of patients throughout the country achieve their smile goals by gently and safely shifting their teeth for a perfectly straight smile. There are numerous reasons why our patients choose invisible aligners over traditional braces. Discover some of the benefits for yourself before meeting with our team:
Comfort – Your set of invisible aligners is created using precise 3D imaging technology, so they fit your teeth comfortably and correctly.
Appearance – Invisalign® invisible aligners are clear, so they are virtually undetectable by others while you're wearing them.
Removable – Whether you've got a special occasion or need to take them out for a photograph, our invisible aligners are removable, so they never stand between you and your experiences.
Freedom – Eat whatever you want, whenever you want. Invisible aligners can be removed while you eat to enjoy your favorite meals.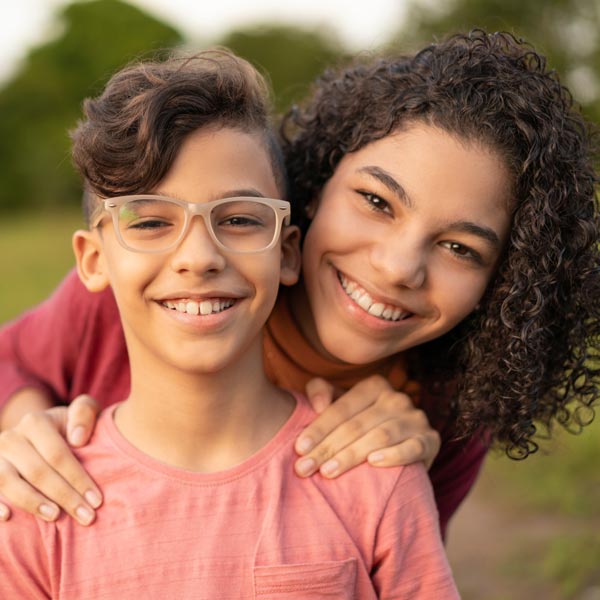 Get Started With a Customizable Treatment Plan
Invisalign® is one of the most popular invisible aligner treatment options available on the market. They offer a wide variety of benefits over other invisible aligners as well as traditional braces, making them the most preferred choice among our patients. They are designed to treat numerous issues with your teeth, including crooked teeth, tooth gaps, over and underbites, and more. When you choose the dental professionals at Tempe Smiles Family Dental for Invisalign®, we'll meet with you and assess your needs. Together, we'll determine if Invisalign® is the right solution for you.
If Invisalign® is chosen as the right treatment option, we'll begin by taking a 3D scan of your teeth. Based on the details of the scan, a series of clear aligners will be created that will gently shift your teeth to the correct position over the course of months.