Teeth Whitening Treatments at Tempe Smiles Family Dental
How Does Teeth Whitening Work?
Even with excellent oral healthcare, many people suffer from discoloration of the teeth due to food and drink stains, aging, or lifestyle choices such as smoking. Your smile is one of the first things people notice about you, so it is only natural to want your smile to be the best it can be. If you are dissatisfied with the appearance of your smile, teeth whitening services might be an option for you. Professional teeth whitening involves the use of a specialized gel made up of hydrogen peroxide, potassium nitrates, and fluoride. The gel is applied to the surface of the tooth and left on for approximately 20 minutes to fully whiten the teeth. In some cases, the tooth-whitening gel is activated by ultraviolet light. Some whitening treatments use an insertable tray to keep the gel in place while the whitening process occurs. The high-powered gel dissolves the stains, leaving behind a whiter, brighter smile.
The Benefits of Teeth Whitening
Removing Discoloration - With age and lifestyle choices such as smoking, your teeth can become discolored. Professional whitening can help remove discoloration deep in the teeth to provide a fresh look.
Removing Stains - Stains can build up on your teeth based on the foods and drinks you consume. Improper brushing and flossing can also cause stains to occur. Teeth whitening treatment can help remove those stains and brighten your smile.
Reducing Bacteria - Many teeth whitening treatments also kill bacteria. Bacteria can contribute to gingivitis and other stages of gum disease. By whitening your teeth, you are also protecting your oral health.
Smiling More Often - You will be amazed at how often you are smiling once your smile is brighter. Teeth whitening can help improve your self-esteem and increase your self-confidence, giving you something to smile about.
These are just a few of the benefits of teeth whitening treatments. Your dentist can explain other benefits of teeth whitening that can help contribute to your overall health and well-being.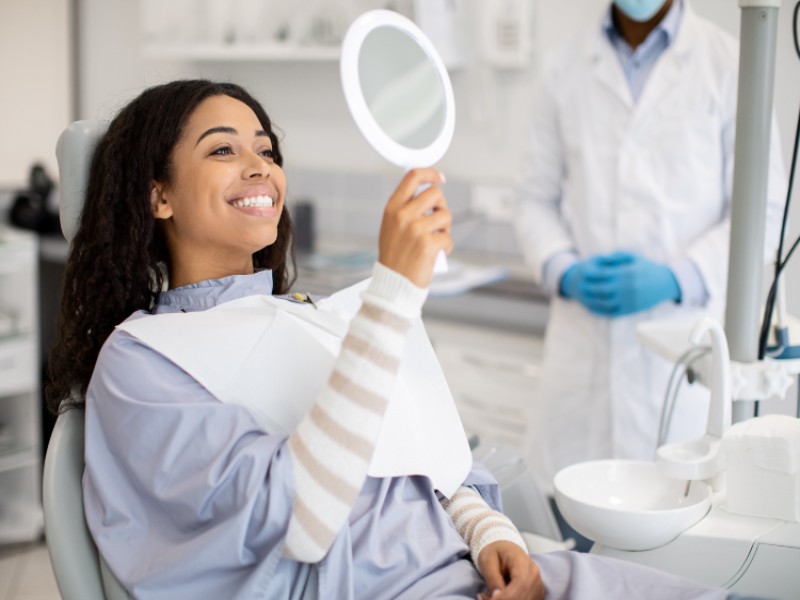 When treatment is administered by a qualified cosmetic dentist, teeth whitening is considered safe. The American Dental Association gives its seal of approval to many over-the-counter whitening products, but a qualified dentist can help determine the best treatment plan for you based on your oral history and your individual needs. Talk to Tempe Smiles Family Dental about your teeth whitening goals, and we will help you come up with a plan for treatment.
If you are interested in teeth whitening, the qualified professionals at Tempe Smiles Family Dental can help find you a treatment plan that works for you. We understand the importance of a great smile, and want to help you get the best results possible. We are dedicated to providing you with the best quality oral health care. Our friendly team is ready to answer all of your questions and help you schedule an appointment. Contact us today.