Is Vaping Bad for Your Teeth?
Over the past several years, smoking has largely fallen out of fashion. Recent research indicates that only about 12 percent of adults smoke cigarettes, down from about 21 percent in 2005. However, as smoking has declined, vaping has been on the rise, particularly among young people. Did you know that 14 percent of high school students in the United States reported using e-cigarettes in 2022? That's according to an FDA study, which also reports that over three percent of middle school students admit to having vaped. This is a good news/bad news situation: vaping is better than smoking cigarettes, but it's not good for your health. E-cigarettes release formaldehyde when heated, and the vapor that users inhale can contain nicotine, chemicals linked to lung disease and cancer, volatile organic compounds, tiny particles that can be inhaled into the lungs, and heavy metals like lead, tin, and nickel. What's more, vaping can increase the bacteria in your mouth. So, is vaping bad for your teeth?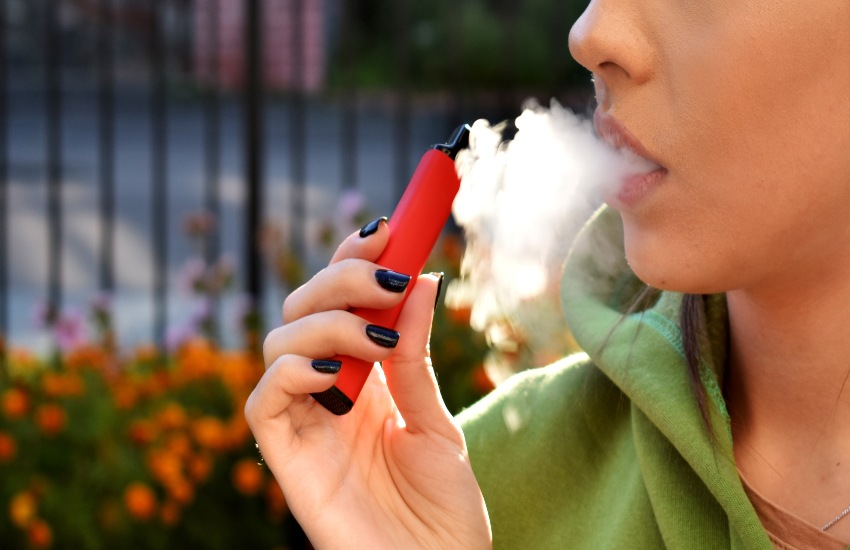 How Vaping Affects Your Teeth
In a word, yes. Does vaping mess up your teeth as badly as smoking cigarettes does? No. But does vaping hurt your teeth? It causes dry mouth and an increase in bacteria, which can lead to tooth decay. What's more, vaping has been linked to periodontal disease, because it causes gum inflammation. It can also cause cell death and changes in the mouth's living cells, and this has a negative impact on a user's oral health. And because vaping contains nicotine, it's addictive, which means people are likely to continue doing it, increasing the impact on the mouth.
Nicotine has another effect, too. Along with tar, the nicotine in cigarettes stain your teeth, causing them to be yellow or even brown. E cigarettes don't contain tar, so can vaping yellow your teeth? Sometimes. While electronic cigarettes do not contain tar, they do contain dyes and coloring agents which, along with the nicotine, can give your teeth a yellow tint.
There is not as much research on vaping as there is on cigarette smoking. Therefore, we don't know as much about its negative effects as we know about the negative effects of tobacco use, including cigarette smoking. What we do know, though, indicates that it's a good idea to avoid vaping, even if it's less harmful than cigarettes. To protect your oral health, avoid smoking and see your dentist regularly.
Schedule a Dental Cleaning and Exam in Tempe Today!
For quality dental care in the Tempe, Arizona area, look to the knowledgeable, experienced dentists at Tempe Smiles Family Dental. A full service dental office offering a wide range of comprehensive dental services, we are committed to a whole-mouth approach to dentistry. We provide general and family dentistry, along with cosmetic and restorative dentistry, using contemporary clinical techniques and modern technology to provide comfortable and efficient treatments, delivering gentle, precise care for your entire family. Because we offer all of our treatments in a single office, we can provide our patients with a personalized experience, improved comfort, and excellent results. We're committed to working with you to ensure you are satisfied with the look and health of your smile. For more information or to request an appointment, call us at 602-830-7500 or contact us through our website.