Baseball's Opening Day Is Upon Us, Go Diamondbacks!
The crack of the bat, the smell of the fresh green grass, and the roar of the crowd! This can only mean one thing, baseball's opening day is upon and it's time for a new season to root on the Arizona Diamondbacks. While we struggled in past years to clinch a playoff spot, we are hopeful that this will be D-Back's year to get back on the national stage.
The Diamondback's opening day was held on Monday, April 4th, and featured a cavalcade of activities for parents, sports fans, and children alike! Our Diamondbacks faced off against the Colorado Rockies and the stadium gave away 2016 schedule magnets to celebrate the event.
Here are some things to check out at Chase Stadium while we root on the Diamondbacks.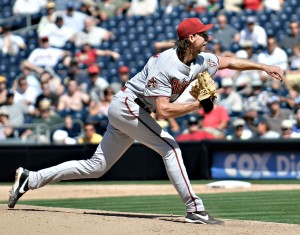 The D-Bat Dog
The D-Bat Dog made national headlines when it was introduced as a stadium concession last year. This colossal $25 corndog is a whopping 18inches and stuffed with cheddar cheese, jalapenos, and, of course, bacon. Many have attempted to champion this beast themselves, but we recommend that you share if only to combat heartburn during the 7th inning stretch!
The Sandlot
Parents might remember the classic 90's film The Sandlot for instilling a love of baseball from a young age. Chase Field hopes to recreate the nostalgic feeling for your kids with their very own Sandlot play area.
Presented by St. Joseph's Hospital and Medical Center, The Sandlot "is a family-focused destination that promotes a healthy and active lifestyle with a variety of fun and exciting activities for fans of all ages," according to the Chase Field website.
If you've got rambunctious children who can't seem to keep still during the game, it might be a good idea to have them work off some energy at the Sandlot.
RamTrucks.com Pool
Anyone who has been a fan of the Diamondbacks knows of the pool that sits in Chase Stadium's right field. Adventurous baseball fans can watch the game while relaxing in a pool and eating in a full-service restaurant. Now, where else can you do that in the United States?