Visit Hawaii in Phoenix at the Arizona Aloha Festival
The beaches and culture of Waikiki are coming to Tempe! The Arizona Aloha Festival will take place on March 12th and 13th at the Tempe Beach Park on Rio Salado Rd. The volunteer-only event is held once a year to raise awareness and education about Hawaiian and other Pacific Island cultures.
The AAF features a wide variety of Hawaiian cultural events and cuisines. Including Luas, pineapple treats, and hula dancing. The event is completely free and a great place to spend the weekend with your friends and family.
Each year the organization elects a community member for the Kokua Award. Kokua is the Hawaiian word for charity. The Kokua Award is given to a member of the AZ community that exemplifies the meaning of the word.
The Hawaiian Language
The Hawaiian language is a Polynesian language and is the official language of Hawaii, along with English. The language features on 17 distinctive characters and is adapted from the English alphabet. To prepare yourself for the event, we've created a list of some words and phrases you can use at the Arizona Aloha Festival.
A hui hou – Until We Meet Again
Hale – Home
Haole – Foreigner
Hau'oli – Happy
Hoaloha – Friend
Ho'olu komo la kaua – Please join us
Hele mei hoohiwahiwa – Come celebrate
Mahalo nui loa na ho'olaule'a me la kaua – Thank you for celebrating with us
Aloha kakahiaka – Good morning
Aloha `auinala – Good afternoon
Aloha ahiahi – Good evening
Aloha `oe – Farewell to you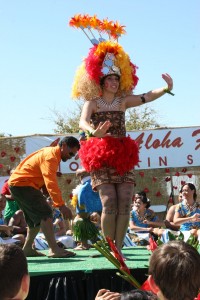 Fun Facts About Hawaii
Before visiting the Arizona Aloha Festival take a look at some fun facts about Hawaii.
Hawaii is the only U.S. State with tropical rainforest.
Hawaii is the only U.S. State to grow coffee, cocoa, and vanilla beans. Yum!
The word Hawaii is from the Proto-Polynesian Hawaiki, meaning 'place of the gods' or 'homeland'.
Only 800,000 years Big Island is the youngest of the island chain. However, it was the first island discovered by voyaging Polynesians.
Kilauea Iki is the world's most active and largest volcano in the world.
Learn more about Hawaii culture this March at the Arizona Aloha Festival!