Clear Aligners Vs. Braces
If you're of a certain age, you will no doubt remember a time when straightening your teeth didn't come with options. If you wanted straight teeth, you got metal braces, often complete with head gear, and you wore them for a few years, just hoping you'd get them off in time for your senior pictures. Today, it's a different landscape. Now there is the option of nearly invisible braces, and that option is so popular that there are several different companies popping up with their version. Invisalign® leads the pack, to the degree that most people just call these clear braces Invisalign®; it's one of those brand names like Band-Aid or Ziploc, that's become synonymous with its product. The question is, how effective is Invisalign®? In the battle of clear braces vs. metal, is there a clear winner? We've got the scoop, so read on to learn more.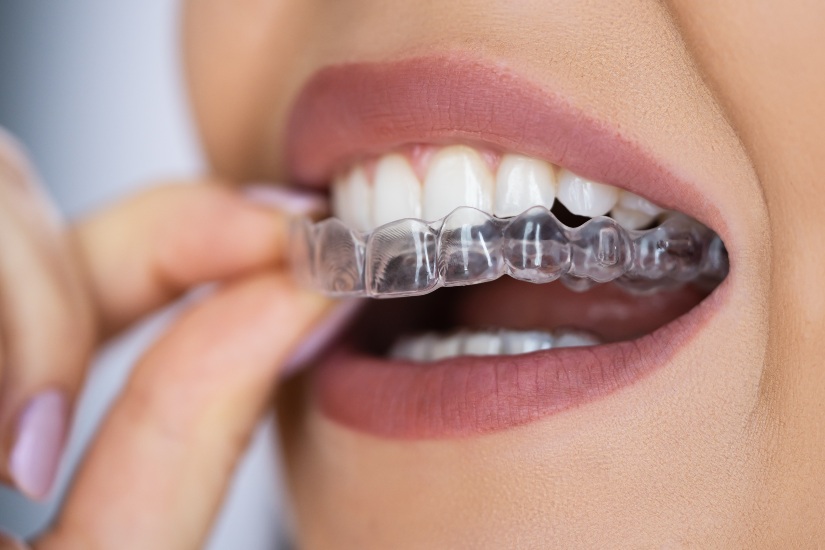 The Differences Between Clear Aligners & Braces
If you think about it, your teeth don't know the difference between the two types of devices, so the decision of traditional braces vs. Invisalign® is largely subjective. Your orthodontist can advise you on which is best for you. Some of the benefits of Invisalign® are that they're more aesthetically pleasing, and they make it easier to keep your mouth clean. What's more, the appointments for Invisalign® are shorter and further apart than the ones you need with traditional braces, which can work well with a busy schedule.
However, if you have an extreme deep bite, large spacing, or your bite requires large root movements to fix, braces may be a better option. Orthodontists worry about patients growing weary of treatment, getting burned out on wearing their aligner trays or elastics. If you stop wearing your aligner trays, you've effectively ended your Invisalign® treatment. However, skipping some days of wearing elastics is not really a big deal. That is why for more complicated cases that are going to take longer to fix, orthodontists generally encourage metal braces.
Advantages of Clear Aligners
In most cases, invisible braces are sufficient to move the teeth. What's more, because you can take the aligners out while eating and when brushing your teeth, it's much easier to practice good oral hygiene. Because wire braces are attached to the teeth, cleaning around them is trickier. Further, metal braces sometimes require emergency visits to the orthodontist because of something causing pain, like a wire poking into the mouth. Clear plastic aligners rarely, if ever, necessitate emergency appointments. Invisalign is typically also less painful than traditional braces. Invisible aligners are not painless by any means, but they do not have metal and wires that can cut the inside of your mouth.
Disadvantages of Clear Aligners
Of course, Invisalign® is not without its disadvantages. If you decide to go with clear aligners, you'll have to be extremely disciplined. These plastic trays must remain in your mouth at least 22 hours each day, and you should really only take them out for eating or brushing. It can also be inconvenient to take them out in public, but you may have to do this if you are going to eat or drink. Any time you eat or drink something other than water, you'll have to remove your aligners to prevent bad breath, cavities, and stains on your aligners. The trick is to remove them discreetly without losing them or accidentally throwing them away. Then, too, Invisalign® can be more expensive than traditional braces. This is because they're customized to your mouth, but it's also because sometimes they need to be combined with metal braces in the end to get the results you want.
Advantages of Traditional Braces
So, do traditional braces have advantages? Absolutely. First, they're suitable for all mouths, so no matter how misaligned your teeth are, braces can be used to fix your smile. And while Invisalign is limited in how much it can move teeth at one time, braces have more force and can get the teeth into the desired position more easily. What's more, there are now more options than ever for straightening your teeth, and if you decide against clear braces, you're not stuck with the traditional metal brackets and wires. Rather, you can choose ceramic braces or lingual braces, which go on the back of the teeth.
Disadvantages of Traditional Braces
Something that bears consideration if you're picking traditional braces, is the issue of diet. You must be extremely careful and watch what you eat if you have metal braces. If you eat something sticky or bite something hard, even ice, you can break the arch wire and cause brackets to pop off of your teeth. This can lead to a longer treatment time, so if you wear metal braces, be careful with them.
Factors To Consider
Of course, before you make any decisions, you'll have to talk to your orthodontist and get input on your options. However, there are some factors you can think about ahead of time, to get an idea of what you think you'd like to do. Ask yourself these questions:
Is it important to me to have braces people won't notice?
Is eating whatever I want during orthodontic treatment my preference?
Do I need to be able to clean my teeth more easily than I'd be able to with traditional braces?
Can I commit to wearing aligners 22 hours a day?
If the answer to those questions is yes, Invisalign® may be the right option for you. However, if you have severe misalignment, need orthodontic treatment for a younger child, or want to have a dentist adjust your braces instead of you having to swap out your aligners on your own, traditional braces may be a better choice. If there's a combination of factors at play, and you need traditional braces but are concerned about the appearance of your smile during treatment, talk to your dentist about different alternatives that may be available.
Transform Your Smile With Tempe Smiles Family Dental
If you're considering braces or aligners, the first step is to talk to your dentist. For quality dental care in the Tempe, Arizona area, look to the knowledgeable, experienced dentists at Tempe Smiles Family Dental. A full service dental office offering a wide range of comprehensive dental services, we are committed to a whole-mouth approach to dentistry. We provide general and family dentistry, along with cosmetic and restorative dentistry, using contemporary clinical techniques and modern technology to provide comfortable and efficient treatments, delivering gentle, precise care for your entire family. Because we offer all of our treatments in a single office, we can provide our patients with a personalized experience, improved comfort, and excellent results. We're committed to working with you to ensure you are satisfied with the look and health of your smile. For more information or to request an appointment, call us at 602-830-7500 or contact us through our website.