ASU Sun Devils Season (So Far) in Review
The ASU Sun Devil's season thus far has been an up and down campaign for a unit that some thought had the potential to contend for the Pac-12 South. It's been more downs than ups, unfortunately, and the Devils are in the midst of a 3 game losing streak going back to October 17th in Salt Lake City, UT.
Coming into the season with preseason top 25 rankings, the season started out on a sour note as ASU dropped out of the top 25 after just a solitary week thanks to a crushing (21-point loss) to Texas A&M—in Tempe, in Sun Devil's Stadium, no less. The Devils were able to get back on track against lesser opponents Cal Poly and New Mexico, recording two straight wins with relative ease.
As soon as the next major test on the scheduled game up, this time in the form of the USC Trojans, the Sun Devils were again handed a crushing defeat by nearly 30 points. At this point, any hopes of a transcendent season pretty much flew out the window, and right on that cue, ASU played its best couple games of the season, a 15-point road victory over top 10 UCLA, and a 25-point walloping of the University of Colorado Buffaloes.
At this point, faint hope was being rekindled, ever so slightly, as a 2-1 conference record was good enough for 2nd place in the Pac-12 South, and if ASU could somehow run the table, they would overtake then undefeated Utah (by virtue of beating them during the table-running).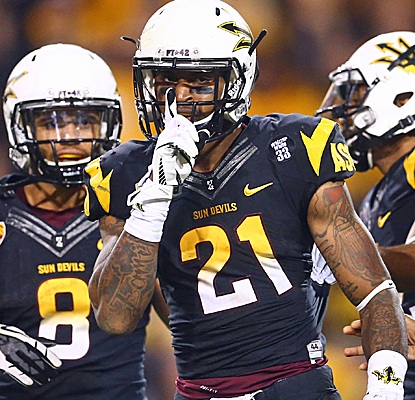 And then the faint hope was dashed, a 16-point loss to Utah was followed by a triple overtime thriller against Oregon that ultimately ended in a loss, which was then followed by a two-touchdown loss to a weaker opponent, the Washington State Cougars.
And that is where it stands now, headed into the home stretch of games (vs Washington, the civil war vs Arizona, and @Cal), the Devils will need to run the table to simply be bowl-eligible.
The Sun Devils have had good success against Washington, and the game is here in Tempe, so this weekend may be the end of the losing streak and, maybe, just maybe the start of the three-game winning streak necessary to make a bowl game.