The big game is in a couple weeks, and not only is it already the sporting event of the year, but the buzz is extra exciting because it's coming to our town! Whether you're attending a friend's Super Bowl party or venturing out to take part of the excitement in person, here are a few tips from your Tempe dental office to make sure that your festivities are both fun and safe.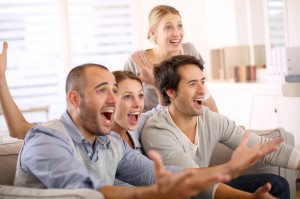 If you are attending a Super Bowl Party:
Designate a sober driver before the party begins.
Avoid drinking too much alcohol too fast; make sure you eat, alternate with water or other non-alcoholic drinks.
Stop drinking at the beginning of the third quarter of the game. Switch to coffee or water
Remember: Friends don't let friends drive drunk. If you see another partygoer about to drive intoxicated, take their keys and call them a cab.
If you're out and about, take advantage of the Valley Metro's special pass package that includes a 7-day commemorative transit pass for the big game or the cab and ride-share services available
All that being said, enjoy the game! But while you do, stick to eating the foods that are healthy for your teeth and the rest of the body. When you hit the snack tray at halftime, look for these tooth-friendly treats.
Apples and carrots are often part of a party platter, and the raw veggies require lots of chewing, which stimulates the gums, and if the dips are low in fat and sugars, it's a double-win. Carrots also contain beta-carotene, which is used in vitamin-A production for strong teeth. Cucumbers are a healthy alternative to chips and have been shown to freshen breath and whiten teeth!
Luckily, you're not limited to just veggies all day. Cheese, especially goat cheese, is loaded with calcium and a protein called casein, which is amazingly effective in protecting the surface of your teeth.
Also, don't forget to get up and stretch, go outside and take advantage of our beautiful Super Bowl weather! Take a walk, or play a quick game of touch football during halftime!